Newest Member of the Lanius Family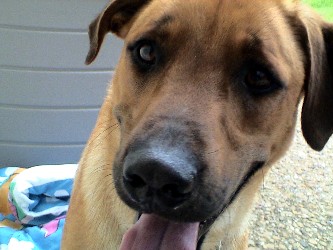 This is our new dog, a rescued stray we have dubbed "Jake."
By the vet's estimate, he is an 18-month-old Golden Lab/German Shepherd mix.
He's had a hard life and is a little skittish around men, but has the gentle Labrador disposition with the kids and my wife.
He's already worked his way into our lives and you can expect some more stories and pictures about him in the future.
Update: I see that Ted's been doing some dog blogging recently, too. Small world.
Update 2: Sad development -- we didn't have a crate for him yet, so Jake slept in our backyard last night. We had an empty yard this morning -- he dug out under the fence. We've been looking for an hour, but no luck so far. Sad kids, sad dad. Will update later.

Posted by JohnL at April 19, 2004 09:42 PM