Reagan Teaser
OK, OK. Just what is Operation Coffeecup?
A brief foray by me into Lileks territory. About a year ago, I found an old vinyl record that my parents had recovered from my grandmother's house. Here's the cover: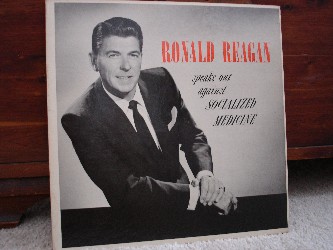 I'm converting it to digital. Soon you can hear the mellifluous strains of the Great Communicator speaking out against the evils of socialized medicine. Too bad our current President doesn't share Reagan's principles on this issue.
I'll soon include more cover art and transcriptions of the "liner notes," which are charmingly anachronistic.

Posted by JohnL at July 13, 2004 10:55 PM