Vacation Photoblog - Part I
Strange to start a vacation photoblog with pictures of food joints, eh?
Well, this vacation was different from previous years in that we decided to take a stand against McDonalds, BurgerKing, and other cheap, artery-clogging food in favor of non-chain, locally-owned, less cheap, artery-clogging food. (Actually, we ate pretty healthy, with most of our meals home-cooked in the huge kitchen of the condo we rented in Breckenridge).
I think we chose pretty well. (See extended entry for pics and critiques).

The Bun 'N' Wrap -- Dumas, Texas. Most Texans, Coloradoans, and New Mexicans are familiar with Dumas as primarily a cross-roads town between Amarillo and Texline in the Texas panhandle. Heading north on US287, you'll find this bright, clean, and well-run hot dog stop on the right-hand (east) side of the road just before the US287/87 split. Exceptionally good corndogs and seasoned curly fries. My lunch (brat with kraut and fries on the side) sure hit the spot. Owned by a transplanted Yankee. Great ballpark-themed atmosphere to match the food. A great excuse to visit Dumas, even if you're not driving to or from Colorado.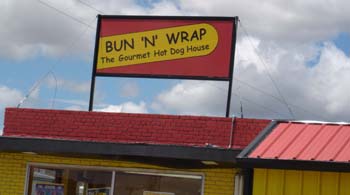 Old Chicago -- Downtown Colorado Springs. Not living in Colorado or the Midwest, we didn't know this was a chain, and technically a breach of our rules. Still, it was a restaurant we had never eaten at before, and had a great selection of beers, pizzas, and American-style pub food. I enjoyed a Fat Tire while snarfing down a Buffalo chicken sandwich for dinner at the end of our first day's drive: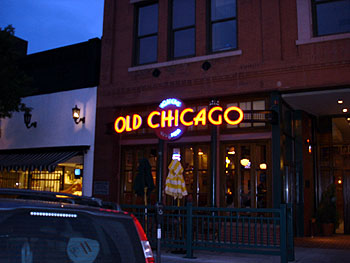 The Best Western Pike's Peak Inn -- Colorado Springs. Not really conforming to the rules either, but I had to include this to point out that our "hot" (note scare quotes in picture) breakfast was indeed hot (pancakes, sausage, and eggs).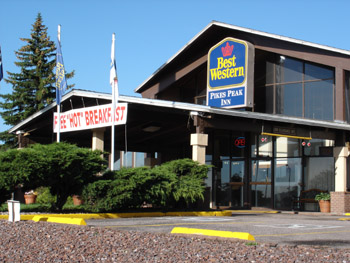 Horseshoe II Restaurant -- Breckenridge, Colorado. Nice view of the mountains from the upper deck. Reasonably-priced kids menu, and another good selection of local beers: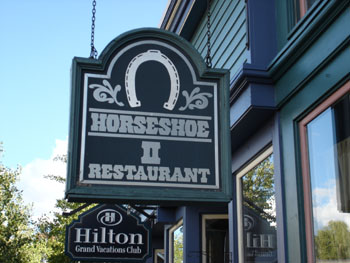 The Crown -- Breckenridge. My wonderful family standing outside this comfortable coffeeshop/ice cream parlor/pub that we visited multiple times: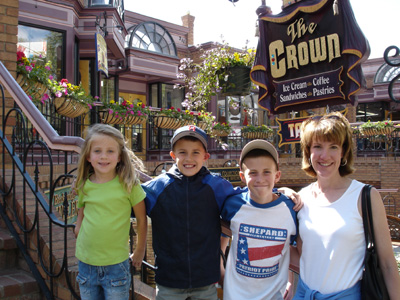 Alpine Inn -- Georgetown, Colorado. On July 3, we took a ride on the Georgetown Loop steam train. We ate at this Inn for lunch. I was sad to hear the conductors say this will be the last season this train runs, as it will definitely impact local business like the Alpine Inn (but see this more optimistic assessment of the railway's future).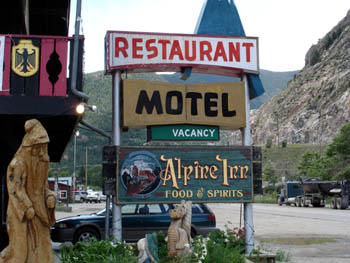 Mi Casa -- Breckenridge. Good Mexican food in Colorado? A dream come true for any true Texan. I had a very good beef fajita salad, while my wife, more daring, tried their Avocado Frito (deep-fried avocado with chicken -- mmmm).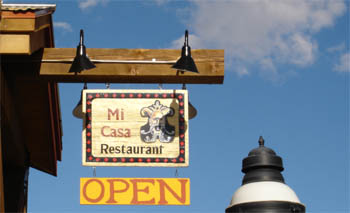 Downstairs at Eric's -- Breckenridge. A great hang-out. I had Buffalo Wings (spicy enough for this Texan) and a buffalo (as in bison-meat) burger, all chased down with some "Hazed and Infused."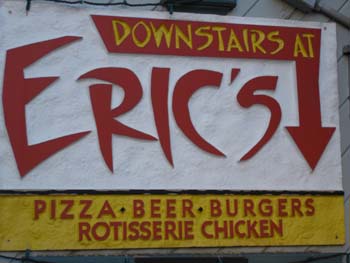 Sam Hill Pit BBQ -- Clarendon, Texas. Finally, we mourned our departure from Colorado and celebrated our return to Texas with some real Texas BBQ in this dusty panhandle town.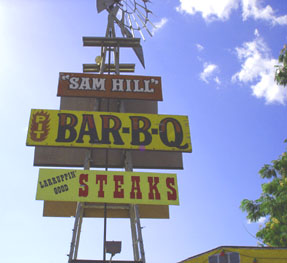 If you get a chance to visit or have previously visited one of these, please leave a comment!
More domestic bliss coming soon, along with some space, politics, and SF commentary as I get plugged back into cyberspace. Thanks!
Posted by JohnL at July 15, 2004 10:44 PM