Don't Worry, Help Kerry Poppins Is On The Way
Kerry almost lost me tonight with his "reporting for duty" salute. So I blew off the tedious family tributes to go walk the dog. I would rather watch my dog produce sh_t than listen to John Kerry's sh_t.
A short while after tuning back in, I picked up the vibe that we are in dire straits. We need help. Forget W and his corporate puppet-masters, we need help: "America can do better, and help is on the way."
Heh. Don't worry. We're from the government and we're here to help you.
Inspiration struck. What we need is a nanny. A nanny with a funny-talking sidekick: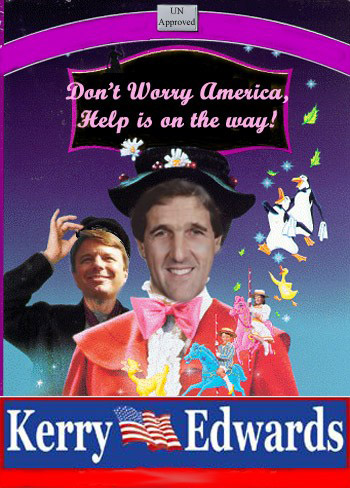 Update: On a similar wavelength:
"Ok, so if we elect Kerry-Edwards, people will never have any bills to pay, we won't have to work long hours ever again, and there will be no more dangerous wars? And I suppose everyone gets a pony, too?" - The Poliblogger, via Wizbang.

Posted by JohnL at July 29, 2004 11:09 PM