Sunday Aircraft Cheesecake (Su-47/S37 Berkut)
I love airplanes. I especially love military aircraft, and even moreso unique-looking military aircraft. For the next couple of weeks, I will try to highlight an aircraft that strikes my fancy. It may or may not become a regular feature.
This week's entry is the Sukhoi Su-47/S37 Berkut: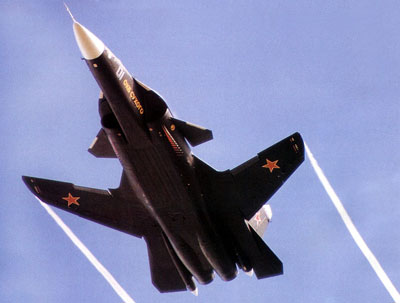 What I like about this fighter is the forward-swept wing, something I find quite visually appealing in an aircraft. Whether the wing shape confers any performance benefits is open to debate.
Enjoy the pic, and let me know if you have a favorite aircraft you would like to see featured.

Posted by JohnL at September 19, 2004 11:31 PM