Sunday Aircraft Cheesecake (F4U Corsair)
This week's entry is the Chance Vought F4U Corsair: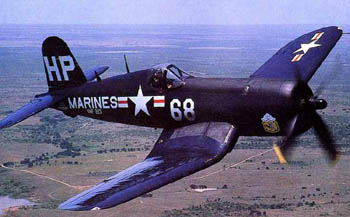 I remember this plane as the "star" of the TV show Baa Baa Black Sheep, which I enjoyed as an eight-year old boy. The show was based on the experiences of American WWII ace, Gregory "Pappy" Boyington, related further in his autobiography.
This page has some links to the F4U Corsair's training films.

Posted by JohnL at September 26, 2004 11:17 PM