SF Babes Poll (Vulcan Edition)
Between guest-blogging and Thanksgiving last week, I completely failed to tally the votes from our last poll, update the Gallery, and set a new poll up Thursday. I was getting tired of that time-slot anyway, so we'll start running this little feature every Tuesday, beginning tonight.
This week we have a trio of Vulcan lovelies from the Star Trek universe:


T'Pring, portrayed by Arlene Martel in the original series episode Amok Time.


Lieutenant Saavik, portrayed by a young Kirstie Alley in the best Star Trek movie of all time, The Wrath of Khan.

T'Pol, portrayed by Jolene Blalock in the current series Enterprise.
Results (Posted 7 December 2004):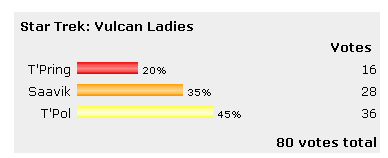 Posted by JohnL at November 30, 2004 09:03 PM