They Voted!
I didn't really doubt that the Iraqis would vote in high numbers today, but it's nice to see the people of Iraq put the lie to the "vote and die" meme spread by the MSM and their hack political cartoonists.
Tim Blair seems to have the best roundup of links to positive and negative coverage. I like Scrappleface's take on the event, too.
Some faces of freedom in the extended entry: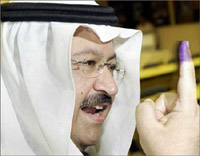 Giving the finger to the terrorists (are you as sick as I am of the lame euphemisms like "insurgents" or "militants"?).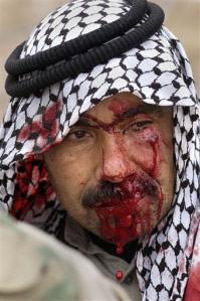 For those clue-deprived individuals who think requiring a photo ID to get into a polling location is "vote suppression," take a look at this picture. (Though shot in the face by a terrorist outside a polling station in Mosul, he is expected to survive).

Posted by JohnL at January 30, 2005 09:31 PM