SF Babes (Battlestar Babes II)
My regular readers will remember that one of the first SF Babe polls was based on the original Battlestar Galactica. Sheba won, as you can verify in the Gallery.
I still haven't seen the "re-imagined" Battlestar Galactica, but I can tell from the various trailers and onsite reviews that this newer, grittier Battlestar can be just as easy on the eyes as the original one.
Instead of cigar-chomping Dirk Benedict playing Starbuck, cigar-chomping Katee Sackhoff pilots her Viper against the dreaded Cylons: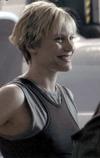 And Starbuck's not the only one who got a sex change for the new series. Boomer (originally portrayed by Herb Jefferson Jr.) is now played by the beautiful Grace Park: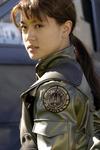 Cast your votes here [link disabled - ed.].
(You may also want to cast a vote in Annika's android poll. I don't know how long she'll keep it up on her front page, but it coordinates nicely with last week's SF Babe poll).

Results (Posted 1 March 2005):
Starbuck (Katee Sackhoff): 26% (15 of 58 votes)
Boomer (Grace Park): 74% (43 of 58 votes) WINNER!
Posted by JohnL at February 22, 2005 09:20 PM