Sunday Aircraft Cheesecake (Me 262)
The first jet fighter in history to see battle, the Messerschmitt Me-262:

The Me-262 Project is a private effort to create reproductions of this historic and beautiful aircraft. Interesting to me, much of the initial work was done in Fort Worth, Texas, just about an hour and a half southwest of here. Here's a picture of one of their creations in flight: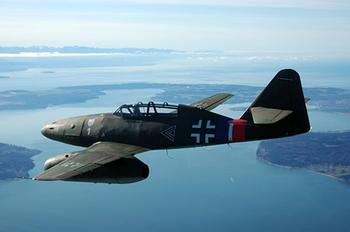 Update: The Country Pundit wrote a nice piece about this airplane, with more detail and history than I typically use in these kinds of posts.

Posted by JohnL at June 19, 2005 09:46 PM