Photoblog - An Afternoon at the Pool
On Sunday, I gave my wife some quiet time for Mother's Day by taking the kids down to our neighborhood pool. It's a nonprofit, open-membership community pool, and I've been on its Board of Directors for 2 years now (we were members for several years before that). It happens to be called The Texas Pool on the Creek. Can you guess why? (Click for larger).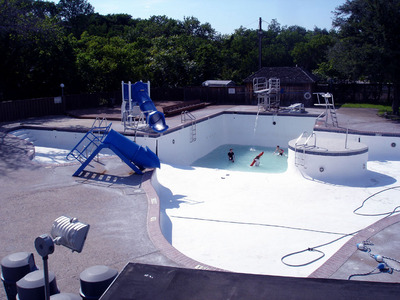 Board membership entails lots of maintenance work, especially as the opening of swim season approaches (we open May 27). One of the benefits of board membership is free access to the pool throughout the year. We drained the pool this week for some maintenance work, and began refilling it on Sunday. The kids have a great time running and sliding down the deep end slope into the slowly rising waters:
And tormenting each other (humorously):
It was a very good day.
(Do the pictures look too blue? I haven't mastered Photoshop Elements yet).
If you live in the Dallas/Plano area, we still have plenty of memberships available, and you can register online. Check it out.

Posted by JohnL at May 16, 2006 09:13 PM | TrackBack