Vacation Photoblog Part II
Our vacation took us from nice-but-not-so-scenic Plano, Texas to Breckenridge, Colorado (elev. 9,600 feet).
Our first day was spent driving to Colorado Springs, where we spent one night. The next day, we visited the US Air Force Academy. (Pictures and more commentary in extended entry).
My wonderful family: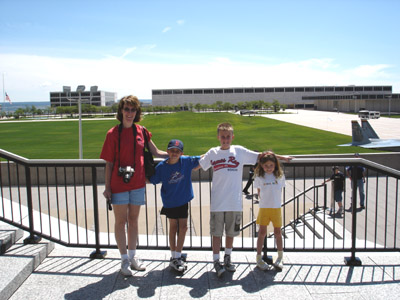 Yours truly in front of one of my favorite planes (and note the tasteful Rush 30 concert T-shirt):
From the Springs, we drove straight up into the Rockies, heading toward Colorado Hwy 9, but taking a brief detour in Florissant to see the Florissant Fossil Beds National Monument, notable for its petrified giant redwood tree stumps:
We then headed to Breckenridge to check into the condominium that would be our home for the next 10 days:
More later!
Posted by JohnL at July 17, 2004 10:22 PM