Vacation Photoblog - Part III
This should be the final entry. I hope you've enjoyed the pictures. All (except for the one of me in front of the P-38) were taken with our new Sony Cybershot P-100 5.1 megapixel digital camera. Easy to use, nice optics for its size, ergonomic, and small. Highly recommended.
Despite some minor complaints from the kids, we were able to haul them on several hikes this time, including one at high altitude. Here's the view at lunchtime, close to timberline:
And here's the view at 11,900 feet above mean -- highest point on the trail: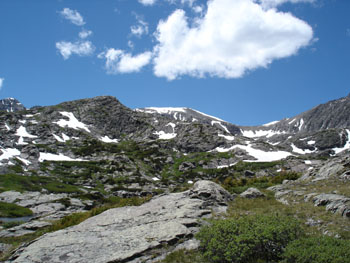 What's funny is that some people don't really grok this. They prefer the beach, or, [shudder] the plains. James Lileks thinks mountains are too obvious. Funny, I grew up in a city on the plain and have seen clouds like mountain ranges, but I have never experienced in Texas anything close to the awe I feel in the Rockies. (More pics in the extended entry). . .
The view from our balcony:
Morning jog scenery -- looking back at the condo from the other side of the valley:
A view of the narrow-gauge locomotive and bridge from our trip on the Historic Georgetown-Silver Plume loop railroad: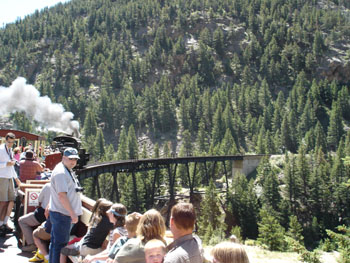 We heard a patriotic concert from the jammed town center and saw a surprisingly large and professional fireworks show on the Fourth of July:
Finally, we took my daughter horseback riding for her birthday: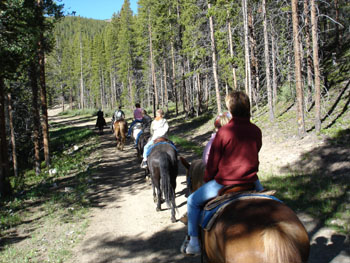 If you've made it this far, thanks for indulging me.
Posted by JohnL at July 19, 2004 10:09 PM