SF Babes (Babylon 5 Main Cast)
Last week's poll was a real squeaker - a one-vote difference (I think the young Joan Collins should have won, but I don't know how to allocate the electoral votes this time).
This week's poll comes courtesy of an idea from commenter Robin. I never watched much of Babylon 5, so I missed the whole multi-season story arc that made the show a must-see event for Sci Fi fans. I still plan to rent or buy the DVDs someday and watch the series.
First up is Susan Ivanova (as portrayed by Claudia Christian):


Next is telepath Lyta Alexander (as portrayed by Patricia Tallman):


Finally up is Captain Elizabeth Lochley (portrayed by Tracy Scoggins):


Not that I would try to sway the vote, but Lochley is portrayed by a Native Texan.
Results (Posted 21 December 2004):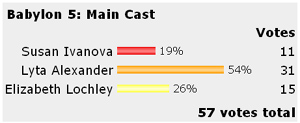 Posted by JohnL at December 14, 2004 09:45 PM