SF Babes Weekly Poll (Is There A Point To This?)
Don't let the existentialist title fool you. There is a point to all of this. Oh yes, there is. A few points, in fact.
This week's poll was inspired by Rob at the Llamabutchers (see post here), who urged a write-in campaign for pointy-eared previous poll loser Lieutenant Saavik (of Star Trek II: The Wrath of Khan):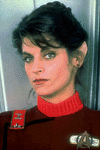 Interesting idea, I thought, to run another previous "loser": the sometimes pointy-hatted Princess Ardala (of Buck Rogers in the 25th Century) (who only "won" her earlier poll against Colonel Deering thanks to the machinations of a corrupt poll author):

Vote early and often (and for Ardala, of course).
Enjoy!
Results (Posted 10 May 2005):
Princess Ardala: 41 of 69 votes for 59% -- WINNER!
Lieutenant Saavik: 28 of 69 votes for 41%

Posted by JohnL at May 3, 2005 11:02 PM